Comparing performance of investment classes since the start of 2020
We analysed the performance of mainstream investment classes since the start of 2020 and up to mid-April.
Following the Covid-19 outbreak and the current economic environment, RateSetter announced on 4 May a temporary reduction in interest for the remainder of the year. During this time, investors will receive only 50% of their interest with the other 50% going to the Provision Fund, for the protection of all investors. Also, since the outbreak, the time it is taking investors to release their investments is currently longer than normal. Further information is available here.
Our research shows how traditionally stable assets, such as cash and government bonds, were joined by RateSetter investments as classes that protected capital and kept money earning.
More volatile investments such as equities lost significant value during the quarter. While investments in Bitcoin have also been volatile, they have recorded a positive return over the period, while corporate bonds recorded a loss. However, gold – a volatile asset, but often considered favourably by investors during times of economic stress – has registered the best return of the investments analysed.
Asset class returns since the start of 2020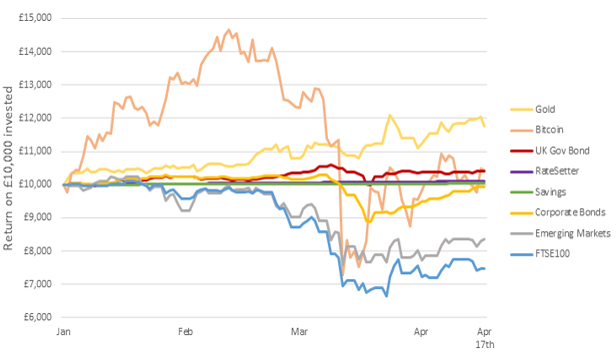 Meanwhile the assets that have performed with the greatest stability are government bonds, cash and RateSetter. Money invested in these assets would have performed consistently since the start the year. Bitcoin has seen the biggest swings in value.
To produce the data, we looked at how a £10k investment has performed in each of the assets over the first quarter of 2020. Gold produced a return of 12% (+£1,173), while an investment that tracked the FTSE100 reduced in value by 25% (-£2,522).
Asset class returns since the start of 2020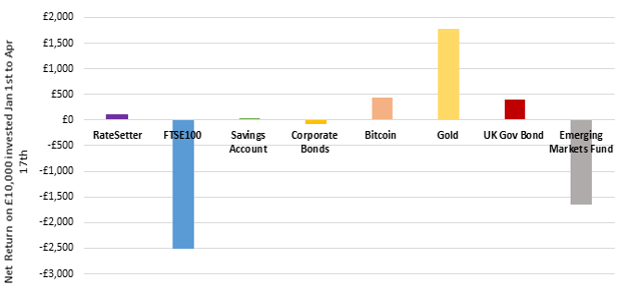 Rhydian Lewis, RateSetter CEO, said: "We are in the midst of a major economic shock and most mainstream investments have seen a major adjustment; however our analysis shows that some investments are weathering the storm much better than others.
"There is a great deal of uncertainty around the economic outlook and there is undoubtedly a long way to go before things get back to normal, but people are starting to notice the stable and earning characteristics of RateSetter's P2P investments which are valuable as part of a diversified portfolio."
Please note that all the investments analysed have different risk and return characteristics.
Data:
Data sources (accessed on 17th April):
Capital at risk. No FSCS protection. Past performance is not an indicator of future results.