Introducing our new investment products
RateSetter's aim is to deliver the most consistent returns and the most liquid investment in peer-to-peer investing. We have a track record approaching 10 years of doing exactly that and believe the new products lay the foundation for the next 10 years and beyond.
Consistent returns and liquidity
RateSetter's delivery of consistent returns is enabled by the collective investment effect of the Provision Fund which spreads the risk of everyone's investment across the entire portfolio (currently £900m and growing).
We also have an unrivalled track record of delivering liquidity, allowing investors to access their money.
However, we can increase liquidity further. This is because investments at RateSetter are currently spread across three markets (Rolling, 1 & 5 Year), which means supply and demand is set at a market level. Supply and demand is, of course, a feature of peer-to-peer but we can increase liquidity by bringing all the investments together.
For this reason, we are launching three new products – called Access, Plus and Max – and we are founding them on a single market. The difference will be transformational because it will mean that both the consistency of returns and liquidity will come from the entire portfolio.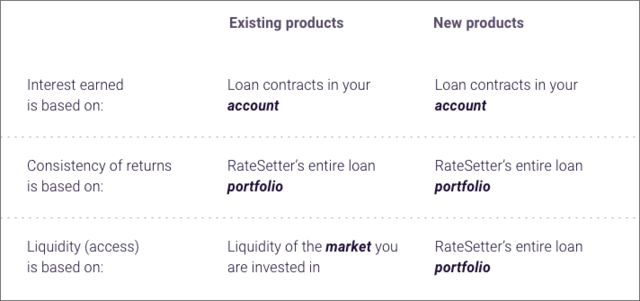 The new products
Investment products are often complex with inconsistent outcomes, which can put people off investing. We believe good products are simple, with a consistent experience. With Access, Plus and Max we are keeping the best features that you are used to, including the ability to set Your Rate, while making the products even more consistent, liquid and easy to use.
The new products are: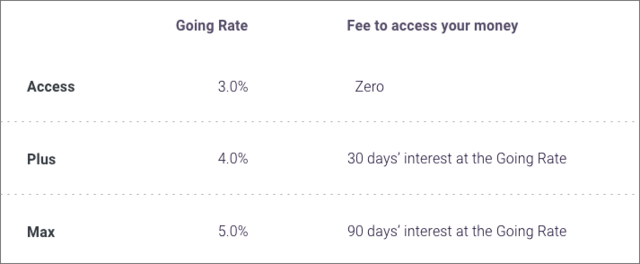 In the background, the main differences you may notice compared to the current products are:
Going Rate: The new products will have a market rate which, rather than being based on a trailing average, will be provided by RateSetter. This is for two reasons: firstly, it will mean market rates that are more predictable and secondly because it gives RateSetter the control to ensure the rates do not become uncompetitive for the low risk lending we target. Any change to the Going Rate will be notified in advance in the monthly statement, or by email. There is no change to the ability for investors to set their own rate in order to try to outperform the Going Rate or undercut it to lend quicker.
Reinvestment: The new products will automatically reinvest until you want to withdraw. This makes the products simpler and ensures that your investment is always earning, provided it is matched to loan contracts. Importantly, it also provides consistency of liquidity for all investors because access to your money is always provided by the entire portfolio instead of individual loans with different repayment profiles.
Our existing products and features
There is no change to the existing 1 Year and 5 Year products. They continue as they are and nothing changes for your investments in those products.
The Rolling product will be re-named Access, with the only effective change being the move to Going Rate.
You will see some updated functions in your online account in line with the new products.
Thank you
Since we launched nearly 10 years ago, we have evolved our products a number of times – a natural consequence of being pioneers and our desire to offer the best peer-to-peer investment product. RateSetter was recently recognised for innovation by winning the Queen's Award for Enterprise, becoming the only peer-to-peer lender to win this prestigious business award. We believe our new products are the culmination of this evolution and a strong foundation for the next 10 years and beyond. We hope you enjoy using them.
Capital at risk. No FSCS protection. Past performance is not an indicator of future results.